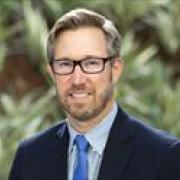 Aric Prather, PhD
Associate Professor
AME Co-Director
Aric Prather is an Associate Professor in the UCSF Department of Psychiatry. He is Co-Director of the Aging, Metabolism, and Emotions Center, and also a faculty member in the Health Psychology Postdoctoral Program, the the Robert Wood Johnson Health and Society Postdoctoral Scholars Program, and on the Executive Board of the UCSF Center for Obesity Assessment, Study, and Treatment (COAST).  
His research focuses on complex interactions between psychological processes and sleep as they relate to physical and mental illness. With expertise in psychoneuroimmunology (PNI), much of his research involves understanding how psychosocial factors affect the immune system, with emphasis on inflammatory pathways as a key biological mechanism.
Dr. Prather received his Ph.D. in Clinical and Biological & Health Psychology at the University of Pittsburgh in August 2010 following completion of his Clinical Psychology Pre-doctoral Internship at Duke University Medical Center. Prior to his Ph.D. he received a Master of Science in Psychology from the University of Pittsburgh in 2006 and a Bachelor of Arts in Psychology from the University of California, Berkeley in 2001.