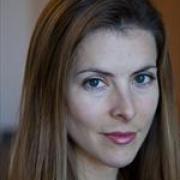 Kirstin Aschbacher, PhD
Associate Adjunct Professor
FOCUS: Dr. Kirstin Aschbacher is an Associate Professor and Data Scientist in the Division of Cardiology at the University of California, San Francisco (UCSF). Dr. Aschbacher is passionate about "digital lifestyle medicine" – i.e., using technology to help people prevent and manage disease through healthy lifestyle change.
CLINCIAL TRAINING: She holds a Ph.D. in Clinical Psychology from the Joint Doctoral Program between San Diego State University and University of California, San Diego with specialized expertise in Behavioral Medicine. She is also a licensed Clinical Psychologist.
DATA SCIENCE TRAINING: Dr. Aschbacher received specialized training in Data Science and mathematical modeling through her Postdoctoral work at UCSF, by completing the Data Insight Fellows Program, and through working at a Silicon Valley health start-up (Jawbone) as a Data Scientist for over a year. At Jawbone, Dr. Aschbacher helped design, build and test interventions to help users make positive changes in their diet, activity, sleep, and weight.
RESEARCH INTERESTS: Dr. Aschbacher's research has focused on how psychological stress and diet both contribute to the risk for obesity, diabetes, and cardiovascular disease. She is interested in the question – How do we help people learn and practice the skills they need to become more resilient to stress, make healthy lifestyle changes, and reduce the burden of disease? Going forward, she is focused on applying these interests in the context of digital therapeutics and the Health eHeart study.
RELATED WEB SITES:
https://www.linkedin.com/in/kirstinaschbacher
https://tiih.org/who/people/scholars-and-fellows/kirstin-aschbacher/
http://ucsfbeelab.org/people/
http://www.amecenter.ucsf.edu/kristen-aschbacher/
IN THE NEWS:
Sound Sleep may help Curb Calories
https://jawbone.com/blog/sound-sleep-may-help-curb-calories-3/
Dr. Aschbacher Featured in the Jawbone Blog
https://jawbone.com/get-up-together/story/kirstin-aschbacher
Stress & Poor Diet work Synergistically to Augment Metabolic Risk
http://www.huffingtonpost.com/2014/05/01/caregiving-stress-junk-food-_n_...
Chronic Stress may Impair Cells that Help Repair Blood Vessel Linings
https://medicalxpress.com/news/2016-09-mothers-children-autism-chronic-s...
The Art and Science of Storytelling through Data
https://blog.insightdatascience.com/the-art-and-science-of-storytelling-...